LEADING THE WAY IN aftermarket innovations FOR APPLE® PRODUCTS
As other exciting Apple products entered the market, Scosche was in-sync creating products, often firsts, to complement these products.  Scosche designed and developed a Firewire-to-USB 30-pin charging adaptor for the iPhone® 3G which alleviated charging issues relating to older 30-pin 5v charging inputs.
As Apple Stores began to appear and spread, Scosche was there first with high-quality earbuds and over time other products like the boomBOTTLE® H20 wireless speaker.
Today, we offer an array of super-fast car/home/travel chargers providing the fastest charge possible for the iPhone®, iPad®™ and iPod®; Rugged Lightning™ USB Charge & Sync Cables with Lifetime Limited Warranties; our award-winning MagicMount™ Magnetic Mounting System in both original and XL (for tablets) great for quickly and securely mounting all your Apple mobile devices to a wide variety of surfaces in the home, office, vehicle and more; wireless and wired headphones/earbuds providing  premium sound quality and wearing comfort as you peruse your iTunes® library and more.
And today our Rhythm+™ Armband Heart Rate Monitor (another Scosche first) and still the world's most accurate monitor of its type, now interfaces with the new Apple Watch, providing the best of both worlds.
CONTINUOUS Innovation…. CONTINUOUS accolades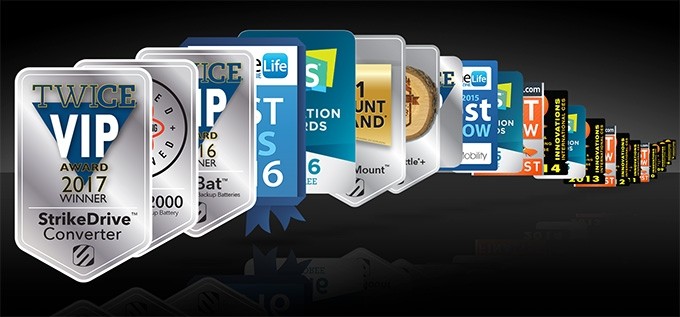 Scosche's commitment to innovation is showcased with an ongoing stream of cutting-edge, new product introductions in the car audio and consumer technology arenas. This began to pay dividends in 2008 when the company's DIYBRH Bluetooth® Receiver received a CES (Consumer Electronics Show) Innovation Award.  Over the years, the company has racked up an impressive array of awards from both industry and consumer organizations like CES, CTIA, iLounge, MacWorld, iPhone + iPad Life, Popular Mechanics and more. 
The company has also been granted over 100 patents.  Now that's innovation!