Description
•  COMPATIBLE WITH PopSockets® Grip: Not only will this mount work with any smartphone, the round MagicPlate is designed to fit inside a PopSockets® grip cap to make the grip compatible with any MagicMount
•  STRONG MAGNETS: Extra powerful Rare-Earth neodymium magnets provide a secure grip to your devices and are 100% mobile device safe
•  OPTIMAL VIEWING ANGLE: Rotate the 4-Axis, 360-Degree adjustable head to securely position for an optimal view from almost any angle
•  COMPATIBLE WITH PopSockets® Grip: Not only will this mount work with any smartphone, the round MagicPlate is designed to fit inside a PopSockets® grip cap to make the grip compatible with any MagicMount
•  VERSATILE: Safely and quickly secure a mobile device to a wide variety of car, home or office surfaces
•  SECURE: Safely and quickly secure a mobile device to almost any firm & flat surface with the strong, automotive grade adhesive
•  STRONG MAGNETS: Extra powerful Rare-Earth neodymium magnets provide a secure grip to your devices and are 100% mobile device safe
•  OPTIMAL VIEWING ANGLE: Rotate the 4-Axis, 360-Degree adjustable head to securely position for an optimal view from almost any angle
•  CONVENIENT: Open, cradle-free design permits safe, easy one-handed device use and access to all controls and ports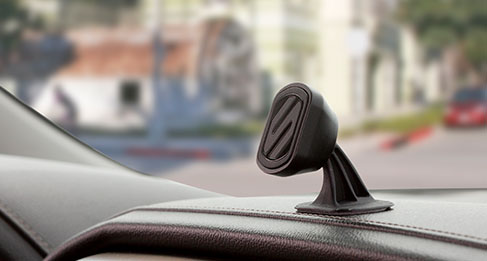 SCOSCHE MagicMount™ Select Dash
The MMD-XCES0 MagicMount™ Select dash offers Scosche quality, at an exceptional price. This mount conveniently mounts your Smartphone and other devices to the dash in your car, home or office. Lock your device in place with this dash mount featuring a 4-Axis, adjustable neck, which rotates 360-degrees to find an optimal view from any seat. Its cradle-free design eliminates the need to tighten around your device, just hover your device near the magnetic surface and instantly lock it in place. Powerful, neodymium magnets hold your phone and device securely in place even on the bumpiest roads and are 100% device safe. Use the strong, automotive grade adhesive to ensure an optimal mounting to almost any flat surface. Includes one mount, two automotive grade adhesives, one large and one small MagicPlate, one protective film, one alcohol cleaning wipe and one user manual. Properly place the included MagicPlates on your iPhone, Android or other Qi-compatible device to avoid interference with your existing wireless charger. The round smaller plate is designed to be compatible with the PopSockets® grip; just pop the cap, drop the plate inside and reinstall the cap and magnetically connect with any MagicMount. It's backed by Scosche's Lifetime Tech Support and 1 Year Warranty.
PopSockets® is a registered trademark of PopSockets® LLC which is not affiliated with Scosche and does not endorse use of PopSockets® grips with Scosche products. This could result in damage of the grip and/or decreased functionality.

MAGICPLATE™ Placement Options
MAGICPLATE™, non-magnetic, adhesive-backed, metal plates, are an integral component of the MagicMount™ Magnetic Mount System for mobile devices. Just apply the MagicPlate as shown to the right and you are ready to use any one of the many MagicMount products available in this growing family of magnetic mounts. MagicPlates come in a variety of sizes and shapes depending upon which MagicMount you buy and replacement kits are also available.
There are several ways to apply the MagicPlate to your device.
Directly to the back of the case
Directly to the mobile device
Between the device and case - either with or with out using the
Included In Package: (1) Mount, (2) Adhesives, (1) Large MagicPlate, (1) Small MagicPlate, (1) Protective Film, (1) Alcohol Cleaning Wipe and (1) User Manual
Payment & Security
Your payment information is processed securely. We do not store credit card details nor have access to your credit card information.