Description
Details
Product dimensions as briefcase:
W: 41 cm / 16.1"
H: 28 cm / 11"
D: 10 cm / 3.9"
Loading capacity: 6.5 kg / 14.3 lbs 
Weight of the bag:1200 gram
Content: 12 liters
Laptop Compartment: 27 cm x 36 - 39 cm x 2.5 cm 
(Width x Height x Depth)
Tablet Compartment: 27 cm x 30 cm (Width x Height)
Key features: 
• Dual Function: Backpack or Briefcase
• Integrated zinc alloy lock to secure to any fixed object
• Hidden Zippers & Pockets
• Integrated USB charging port
• Optimal Weight balance
• Metal Frame inside
• Cut Resistant
• Water Repellent Fabric
• Including a Shoulder Strap
• Illuminating safety stripes
• Fits a 12.9" Tablet (tablet compartment
• Fits a 15.6" Laptop (laptop compartment)

 
Product dimensions as backpack:
W: 28 cm / 11"
H: 41 cm / 16.1"
D: 10 cm / 3.9"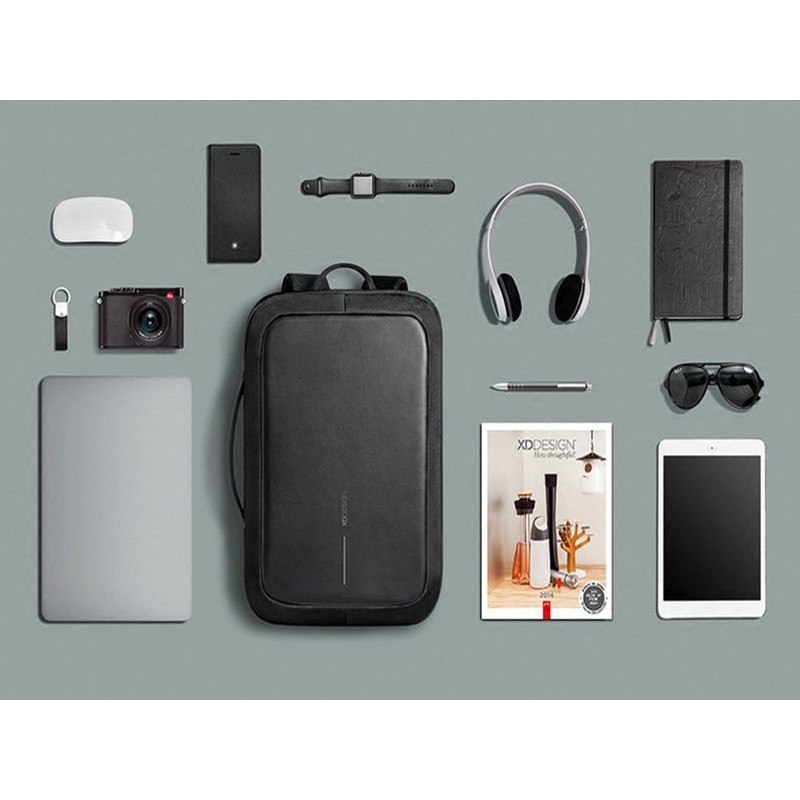 ??



Bobby Bizz, the Best Business Briefcase and Backpack!

Keep your belongings safe and make your commute all that more comfortable with our latest generation of the Bobby Anti-Theft backpack line.

For many of us, worrying about getting pick-pocketed while carrying our backpack can be an unpleasant experience. Even something as simple as enjoying a warm cup of coffee at a terrace can result in your bag being seized from you all in the blink of an eye.

This is exactly why we strive to protect your luggage from theft. We want nothing more than for our clients to travel safely, comfortably and without having to be concerned about unwanted incidents.

Whether traveling far or near, by bike, by foot or public transport, the Bobby Bizz is the perfect traveling sidekick.

From hidden zippers to an integrated anti-theft lock, the Bobby Bizz guarantees to cause pocket-pickers to scratch their heads in confusion and be totally unable to take or even reach your personal possessions. With the Bobby Bizz you not only roam in style but it also has the ability to go from backpack to briefcase in a matter of seconds! Perfectly suited for any occasion.

Live more and worry less!



Payment & Security
Your payment information is processed securely. We do not store credit card details nor have access to your credit card information.